Resources
Resources
Human Trafficking Front offers these helpful educational resources to assist in preventing and detecting online child sex trafficking. These resources strengthen the response to offenders and enhance child victims' ability to access assistance and support.
Books
---
This book offers a unique conceptual and contextual analysis of online child sexual exploitation in the context of trafficking and modern slavery.
Topics include:
An interdisciplinary examination of Internet-related child sex trafficking practices and the business model that drives them

Vulnerabilities of children in cyberspace, risk factors, and the effects of victimization

The illegal use of the Darknet and anonymity tools

Law enforcement's role as part of the legal response to online trafficking

The need for countries to protect children while balancing the fundamental rights to freedom of expression and privacy online

A discussion on the role and responsibilities of internet companies to protect children online

A proposal for an international legislative framework to help countries detect, investigate and punish offenders and protect child victims
Guides
---
The Duty and Responsibilities of Electronic Service Providers to Combat Exploitation Content and Protect Minors
This evidence-based material addresses the duty of care of electronic service providers and their role in the prevention of these online crimes and the protection of children, up to the age of 18 years old, on their services and platforms.
El Deber y Responsabilidades de los Proveedores de Servicios Electrónicos para Combatir Contenidos de Explotación y Proteger a los Menores

Este material basado en evidencia aborda el deber de cuidado de los proveedores de servicios electrónicos y su papel en la prevención de estos delitos en línea y la protección de los niños, hasta la edad de 18 años, en sus servicios y plataformas.
How Traffickers Misuse Social Media to Facilitate Child Trafficking
This evidence-based material addresses how child traffickers misuse social media platforms to achieve their goal of commercial exploitation of children. This resource describes how social media is a tool for these offenders to connect with minors, communicate with like-minded individuals, and facilitate the process of trafficking and exploitation of children.
Cómo los Tratantes Utilizan las Redes Sociales Para Facilitar la Trata de Niños Con Fines de Explotación Sexual

Este material basado en evidencia aborda cómo los tratantes de niños hacen mal uso de las plataformas de redes sociales para lograr su objetivo de explotación comercial de menores. Este recurso describe cómo las redes sociales son una herramienta para que estos delincuentes se conecten con menores, se comuniquen con personas de ideas afines y faciliten el proceso de trata y explotación de niños.
The Role of Cryptocurrencies in the Commercial Sexual Exploitation of Children
An infographic that describes the use of cryptocurrency in the purchase of illegal and exploitative content of minors and other forms of exploitation, including live streaming of child sexual abuse, and explains how this use significantly complicates police investigations. This evidence-based resource aims to promote effective prevention and intervention strategies to identify victims and investigate offenders.
El Papel De Las
Criptomonedas
en la Explotación Sexual
Comercial Infantil
Una infografía que describe el uso de criptomonedas en la compra de contenido ilegal y de explotación de menores y otras formas de explotación, incluida la transmisión en vivo de abuso sexual infantil, y explica cómo este uso complica significativamente las investigaciones policiales. Este recurso basado en evidencia tiene como objetivo promover estrategias efectivas de prevención e intervención para identificar a las víctimas e investigar a los delincuentes.
Preventing Online Grooming
An infographic describing the online grooming of children, strategies for prevention, and recommendations for laws and policies to adequately protect children from this form of online exploitation. This tool aims to promote best practices and increase effectiveness in identifying and prosecuting offenders and supporting child victims.
Previniendo
la Solicitación en Línea
Una infografía que describe la solicitación de niños en línea, estrategias para la prevención y recomendaciones de leyes y políticas para proteger adecuadamente a los niños de esta forma de explotación en línea. Esta herramienta tiene como objetivo promover las mejores prácticas y aumentar la eficacia en la identificación y el enjuiciamiento de los delincuentes y el apoyo a los niños víctimas.
Understanding Online Grooming
An infographic that describes the online grooming of children process, its negative impact on the child victim, and the resources available to support child victims and their families when this type of abuse and exploitation occurs.
Entendiendo la Solicitación en Línea
Un gráfico que representa información sobre el proceso de grooming de niños en línea, su impacto negativo en el niño víctima y los recursos disponibles para apoyar a los niños víctimas y sus familias cuando ocurre este tipo de abuso y explotación.
Preventing and Responding to Child Sex Trafficking in Cyberspace: A Guide for Professionals Serving Children and Youth
A presentation that describes online child sex trafficking as a call to awareness and action to fight these types of offenses that sexually exploit children in cyberspace.
Previniendo y Respondiendo a la Trata de Niños en el Ciberespacio: Una Guia para Profesionales al Servicio de Niños y Jóvenes
Una presentación que describe la trata sexual de niños en línea como un llamado a la concientización y la acción para luchar contra este tipo de delitos que explotan sexualmente a los niños en el ciberespacio.
Report Online Child Sexual Exploitation
---
National Human Trafficking Hotline
---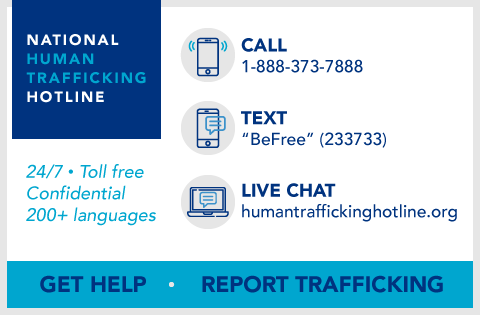 Helpful Links
---